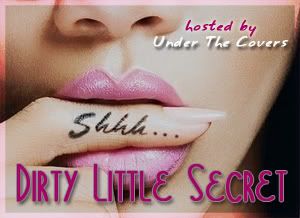 Under the Covers hosts a weekly meme to elicit our "dirty little secrets". If you want to participate all you need to do is:
Be a follower of Under the Covers.
Create a post in your blog taking the meme image and copy instructions.
Answer the question we they propose! This can be done in any way you like, post a video, write a post etc.
This weeks question is:
An evil fairy sneaks into your bedroom one night when the full moon is out and magicks you to wake up in the world you would like to live in the least. Where do you wake up?
I hate to sound evil but I would not like to be in a all christian world. I hate to bring religion into this, but to me that would be hell. I love being able to pick and choose what I want to believe in and not have anything imposed on me. I don't need restrictions in anything let alone SEX!!!!!! In my opinion, religion is the root of all evil and my world would be happier is no religion existed. By this I mean organized religion that might have views and ideals that contradicts another person's religion. Many people do things in the name of religion that hurts others just because they don't believe in the same things. Being free to express your ideas without any repercussions would be ideal, but until that day comes I guess I'll live in my own fantasy world.
Talk to you later…… 😎
Bx Che@psk@t3 <—Like us on Facebook
@BxCh3apskat3 <—Follow me on Twitter
If you like this post, please consider sharing….BxChe@psk@t3….HAPPY SHOPPING 🙂
This post may contain affiliate links. Please read my Disclosure Policy.


Related articles