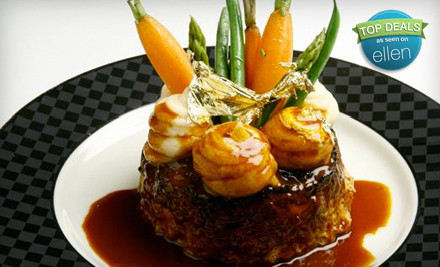 By dividing a meal into courses, gourmet restaurants prolong the joy of dining while preventing salads from rekindling grudge matches with entrees over whose fork is whose. Avoid silverware disputes altogether with today's Groupon to David Burke at Bloomingdale's. Choose between the following options:
For $79, you get a three-course prix fixe dinner for two (a $176.90 value). The dinner includes the following:

One bottle of chardonnay, cabernet sauvignon, or sangria (up to a $55 value)
Two appetizers (up to a $24 value)
Two main dishes (up to a $50 value)
Two desserts (up to a $17.90 value)
Two glasses of Guenoc port (a $30 value)

For $125, you get a five-course prix fixe dinner for one on New Year's Eve (a $275 value). Groupon holders can choose between a 7 p.m. and 10 p.m. reservation. The dinner includes the following:

Glass of Far Niente chardonnay and glass of Krug champagne per person
Amuse-bouche: short-rib dumpling
First course: butternut-squash soup
Second course: market salad
Third course: new york strip steak
Dessert of red velvet bundt cake with vanilla gelato
Chef David Burke, the foodsmith behind David Burke at Bloomingdale's, draws on his training at the Culinary Institute of America as he plates special prix fixe menus. Diners can toast the coming three-course meal with a bottle of Linen Winery chardonnay or Guenoc cabernet sauvignon, or perhaps with a 1-liter aquarium of sangria swimming with 15 fruity ingredients. Lobster bisque or a leafy salad serves as the starter course, revving up appetite engines for mains such as seared scottish salmon with veggies and tabouli or lobster mac 'n' cheese. Steak frites reminisce about days at the Sorbonne, and garden vegetables, ricotta, and fresh parmesan mingle in the penne pasta. Desserts in both solid and liquid form seal the meal, followed by two glasses of port that wave good night to dining couples from the starboard side of the table.
Or opt to indulge in David Burke's famed eats on the last day of 2011, ringing in the New Year after indulging in the holiday's five-course menu. Amuse-bouche morsels and short-rib dumplings awake palates with a preview of the savory parcels to come, welcoming enlivened tongues to lap up butternut-squash soup crowned in candied walnuts. The market salad's crisp greens cradle wild mushrooms and truffle vinaigrette, laying a cushy bed for bits of swallowed pride and sliced new york strip that next make their way into the stomach. Nibbles of red velvet bundt cake cooled in vanilla gelato sweetly cleanse the palate, and flutes of Krug champagne reward hard-working mouths with a bubbly, bite-free finish to the five-course meal.
Find Today's Daily Deal on the Best in New York!
←CLICK HERE